| | |
| --- | --- |
| December 17, 2012- In This Issue | |
Home | Broaden Statewide Telemedicine | GA 36th in Health Rankings | The Willpower to Quit | Safe Toys | Seasonal Depression | App Details Recalls | PHNEWS | PHRECIPE | PHTRAINING | PHEVENTS
DPH to Broaden Statewide Telemedicine Network in 2013
DPH plans to establish telemedicine
sites across Georgia.
During a recent appointment, Dr. Anne Patterson, a maternal fetal medicine specialist, spoke with an expectant mother, studied an ultrasound and discussed next steps for care for the woman, whose baby appeared to have an enlarged heart. She even called in a pediatric cardiologist to discuss the fetus' condition. But while Patterson was seated in her metro Atlanta office, her patient sat on an examination table four hours away in Thomasville, Ga.
Patterson has practiced this kind of telemedicine for the past two years, using innovative two-way, real-time videoconferencing technology.
"I can see the patient just like I was standing in the room, and the patient can see me," she said. "I can look at the scan, and then we can go over with the patient all the findings, what her risks are and what her plans should be after that."
Georgia Gets 36th Spot in Health Rankings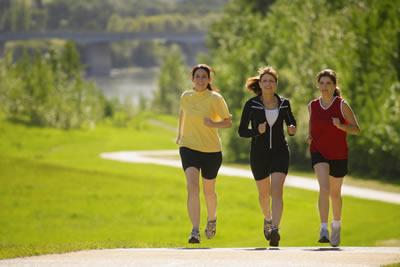 The release of Georgia's new health ranking by the United Health Foundation (UHF) caught the attention of health officials and advocates last week. In UHF's America's Health Rankings report, Georgia moved up two slots and is now 36th among other states. Georgia was 38th in 2011.
Although not among the list of states that showed the most substantial improvements by moving up at least three slots, health officials recognize being ranked 36th is great progress. The Georgia Department of Public Health (DPH) hopes to increase its momentum by improving the health status and lifestyles of Georgians through low prevalence of obesity, smoking, infant mortality, diabetes and sedentary lifestyle over a lifespan.
Georgia's strengths in the 2012 report include high immunization coverage and low prevalence of binge drinking. The major challenges that influenced Georgia's health ranking are a low high school graduation rate, high levels of air pollution, high prevalence of babies with low birth weight and a high infant mortality rate.
Cathy Acorn, program associate with Coffee County Health Department, quit smoking more than eight years ago. "I feel so much healthier and do not suffer from shortness of breath when I do something physical," said Acorn. "The cost savings for me have also been wonderful."
Cathy Acorn had a long talk with herself eight years ago about what she would be doing in the future if she didn't quit smoking. She thought about what life would be like for her four young sons and her husband.
"I know I did a smart thing when I quit smoking," Acorn said. "I can look forward to years of being healthy and living each day to its fullest."
That wasn't always the case for Acorn, a program associate with the Coffee County Health Department. She had smoked for 25 years and only quit during her pregnancies. Like clockwork, she would eventually light up again and the cycle would continue.
She had heard the health messages listing all the reasons to quit, including nicotine addiction and related diseases. But deep down inside, she said she always knew that in order to stop for good she had to quit on her own terms. She tried at least four to five times to quit, but a stressful situation or a weak moment would bring her back where she started.
Parents, relatives and other consumers buying holiday gifts for children have no shortage of options, but knowing which toys are safe for kids of all ages is an important part of having a safe and fun holiday.
Injuries and even deaths from toy-related incidents pose a substantial risk for families with young children. According to SafeKids USA, a network of organizations working to prevent unintentional childhood injuries, about 20 children ages 14 and under die each year from a toy-related incident and 168,000 children ages 14 and under are treated in emergency care for toy-related injuries.
Toy-related deaths and injuries are most often the result of choking, drowning, strangulation or a motor vehicle incident. Choking is most often caused by deflated or broken latex balloons, small play balls and button batteries that easily fit into a child's mouth and throat.
For many people, the season forever known as joyous, peaceful and the "most wonderful time of the year" is just the opposite: lonely, stressful and emotionally draining. Seasonal depression, or the holiday blues, is a common reaction to the hustle and bustle of the holidays.
The triggers for seasonal depression are plentiful: stress, fatigue, being far away from (or perhaps too close to) family and friends, financial constraints or even the post-holiday let-down after Jan. 1.
"You've got all kinds of things going on during this time of year, and often, people put unreal expectations on themselves," said Jeanette David, disaster mental health services coordinator with the Georgia Department of Behavioral Health and Developmental Disabilities (DBHDD).
Depression is a serious condition for millions of people at all times of the year. About one in 10 U.S. adults experience it, according to the Centers for Disease Control and Prevention (CDC).
App Details Recalls for Food,
Meds and Toys
When you're buying and using products, safety comes first. With this product recalls application, you have vital safety information available whenever and wherever you need it -- right on your mobile phone.
Whether you're at your child's day care center or a yard sale, at a store or at home, you can now type a product's name into your phone and learn immediately whether that product has been recalled because of a safety concern. You can also see photos of recalled products and learn what to do with recalled products in your home.
Click here to download.
PHRECIPE

Chickpea Hummus Burgers

Prep and Cook Time:
20 minutes
Home | Broaden Statewide Telemedicine | GA 36th in Health Rankings | The Willpower to Quit | Safe Toys | Seasonal Depression | App Details Recalls | PHNEWS | PHRECIPE | PHTRAINING | PHEVENTS